The Ultimate Wealth and Achievement Summit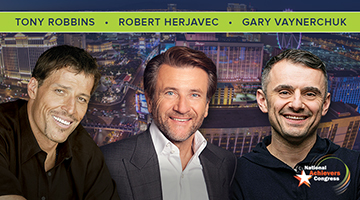 Date:
November 26, 2018 8:00am
Learn from those playing at the top of their game at the National Achievers Congress, presented by Success Resources America. At this massive 1-day program you will learn from inspiring, successful, international game-changers. They will share their secrets to turning their passion from a dream to a success.
Receive live training on sales and marketing, business, investing, personal-development, and motivation from these super-star speakers:
TONY ROBBINS: #1 Business and Life Strategist
GARY VAYNERCHUK: Social Media Guru and Angel Investor
ROBERT HERJAVEC: Entrepreneur and Shark Tank Investor
In its 23 year history the National Achievers Congress has helped launch and grow more successful entrepreneurial careers around the world than any other conference. NAC has always delivered the information that makes the difference–the practical processes, the current and effective tactics, the techniques to gain the advantage–and most importantly, the shifts in mindset to achieve success in all aspects of life.
A limited number of Diamond Tickets are available with a photo-op with TONY ROBBINS. Platinum Tickets feature a Business Q&A with special guest speaker, and lunch. A limited number of seats are available for a 2-hour business strategy session with GARY VAYNERCHUK, and much more.
Visit https://nacconference.com/las-vegas/ for details and tickets.