Skate America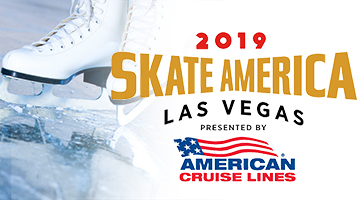 Date:
October 18 - 20, 2019
2019 Skate America Ticket Packages
Ticket packages for all 2019 Skate America disciplines.
BUY TICKETS
Friday, October 18, 2019
1:00pm
SESSION 1: Pairs Short Program & Men's Short Program
Friday, October 18, 2019
7:00pm
SESSION 2: Rhythm Dance & Ladies Short Program
Saturday, October 19, 2019
1:00pm
SESSION 3: Pairs Free Skate & Men's Free Skate
Saturday, October 19, 2019
6:45pm
SESSION 4: Free Dance & Ladies Free Skate
Sunday, October 20, 2019
2:00pm
SESSION 5: Skating Spectacular
U.S. Figure Skating's 2019 Skate America presented by American Cruise Lines will be held at the Orleans Arena October 18-20! The international event will be the first of six stops on the International Skating Union (ISU) Grand Prix of Figure Skating Series, and will be the first Skate America event to be held in Las Vegas.
The event will feature three days of competition in ladies, mens, pairs and ice dance. The field will include 60 competitors, including Olympic- and World-level athletes.
Past Skate America titlists include reigning World champion Nathan Chen, five-time World champion and two-time Olympic medalist Michelle Kwan, and Olympic champions Kristi Yamaguchi, Scott Hamilton, Evan Lysacek, and Meryl Davis and Charlie White.