Quintet.3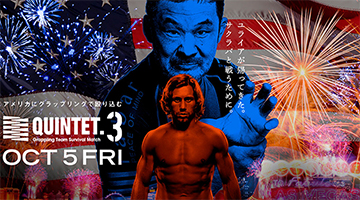 The most exciting new combat grappling show of 2018, QUINTET, makes its American debut at Orleans Arena on Friday, October 5th. MMA legend and grappling mastermind, Kazushi Sakuraba, brings his massively successful five-man team grappling survival tournament to Las Vegas, with four handpicked teams of the most elite combat submission specialists on the planet today.
Team Sakuraba, Team 10th Planet, Team Polaris, and Team Alpha Male are set to throw down in this high-octane, openweight show of skill, power, heart, and team tactics live for the U.S. audience.
Will Team Polaris defend their QUINTET.1 crown? Will Team 10th Planet defend their QUINTET.2 crown? With Kazushi Sakuraba, Josh Barnett, Craig Jones, and Urijah Faber up in the mix, Sin City promises one thing: aggression and submission. If you are a fan of the deeply rooted martial arts, you do not want to miss this!
Purchase of a VIP seat ticket includes an exclusive all-competitor signed poster. These are very limited, so jump in before they're sold out. Join us and witness competitive grappling history in the making!