Western Athletic Conference
LEARN • COMPETE • INSPIRE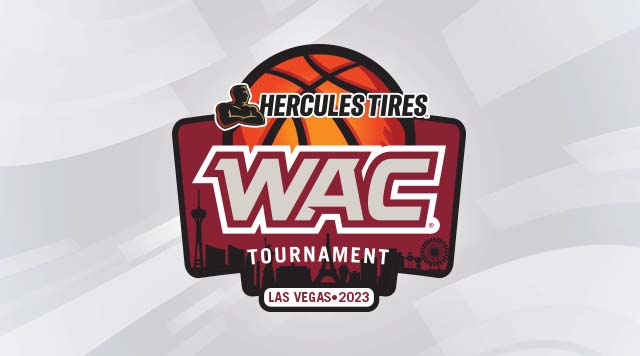 Wednesday, March 8, 2023
12:00pm
Women's Quarter Final Session 1 **times subject to change**
Wednesday, March 8, 2023
6:00pm
Women's Quarter Final Session 2 **times subject to change**
Thursday, March 9, 2023
12:00pm
Men's Quarter Final Session 1 **times subject to change**
Thursday, March 9, 2023
6:00pm
Men's Quarter Final Session 2 **times subject to change**
Friday, March 10, 2023
12:00pm
Women's Semi Final **times subject to change**
Friday, March 10, 2023
6:00pm
Men's Semi Final **times subject to change**
Saturday, March 11, 2023
3:30pm
Women's Final **times subject to change**
Saturday, March 11, 2023
8:30pm
Men's Final **times subject to change**
The Western Athletic Conference is back for its 2023 season. The WAC Basketball Tournament is expanding to 12 teams (men's and women's) with the final three rounds and championship games March 8-11, at Orleans Arena in Las Vegas. Teams to be announced soon.

Venue Bag Policy: No bags or backpacks will be permitted into the venue except for one small personal clear bag per person no larger than 12" x 12" x 6" or one small clutch no larger than 5" x 9" x 2".

DIGITAL TICKET SCREENSHOTS WILL NOT BE VALID FOR ENTRY.