Muaythai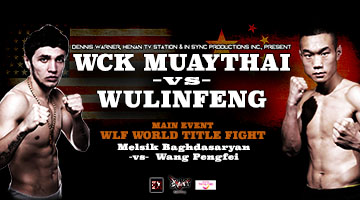 Date:
November 18, 2017 7:00pm
Buy Tickets
NEED A HOTEL ROOM?
Book your hotel stay with special room rates at The Orleans Hotel & Casino.
BOOK NOW
Or please call 1-800-675-3267 and use code A7MTC11
WCK Full Rules Muaythai is back at the Orleans Arena with WCK vs Wulinfeng on Saturday November 18th starting at 7pm. That's right fight fans, this is an international showdown between China's biggest kickboxing promotion-Wulinfeng vs USA's top stand up fighting organization for over twenty eight years - WCK. This event is fully loaded with champions from both countries gathering in the fight capital of the world to showcase their skill, power and sportsmanship. Leading the WCK fight team are WLF champions - Melsik Baghdasaryan and Adam Rothweiler along with more star power including Joe Gogo, Travis Clay, TJ Arcangal, Charles Rodriguez, Fadma Basrir and Mike Martinez. They will throwdown against Wang Pengfei, Chen Wende, Zhao Chongyang and many more. Last year WCK won the team competition so Wulinfeng is bringing their best in this longest running martial arts professional team competition...now celebrating nine years.
Also the much anticipated Vegas debut of WCK's new female sensations Tori Hoefs, Shanna Gozo, Ashley Lower and Kennedy Maze will start the event with a bang. This is an all ages event and tickets will be available on line at ticketmaster.com or at the Orleans Arena box office.
Management reserves all rights