Montgomery Gentry & Charlie Daniels Band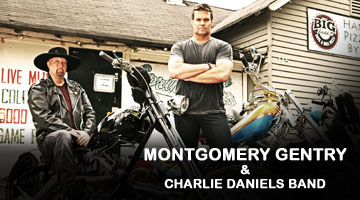 Date:
December 14, 2013 9:30pm
Location:
Cost:
Reserved Seating: $60, $37.50, $10

Seating Chart
Montgomery Gentry and Charlie Daniels Band take the stage at the Orleans Arena on December 14, 2013!

With a new album, new label and renewed sense of musical purpose, Eddie Montgomery and Troy Gentry are poised to stake their claim as one of country music's all-time greatest duos. Their new collection, the aptly titled Rebels on the Run, brings Montgomery Gentry fans back to the beginning with a fresh attitude. The duo already boasts fourteen Top 10 singles, including favorites "Something To Be Proud Of," "If You Ever Stop Loving Me," "Lucky Man," "Back When I Knew It All," and "Roll With Me."

Few artists have left a more indelible mark on America's musical landscape than Charlie Daniels. As diverse as his live shows have always been, his discography also reflects Charlie's love of multiple genres. His unique voice as an artist emerged as Charlie recorded his self-titled solo album in 1970, and two years later formed the Charlie Daniels Band. The CDB has populated radio with such memorable hits as "Uneasy Rider," "Long Haired Country Boy," "The South's Gonna Do It Again," and his signature song, "The Devil Went Down to Georgia."
Door times and event time subject to change.